I really don't enjoy doing laundry, but it is a task that must be done.  Many times I've mentioned to my husband that I could get so many more things done during the day if our family would streak for one week and fast for another.  I'm thinking we better fast first, then our streaking would be a little less horrific.
Like many of you I spend a lot of time in the laundry room.  I've tried to make our laundry room a little more enjoyable as well as functional. 
This does apply to me, I have been known to wake up at 3:00 am and remember that someone needs a certain outfit in the morning.
I like to have my laundry supplies within reach and I think they look cute in jars.  Why so many jars of detergent?  Contents:  Cascade (keep reading for a whitening recipe), Tide, Borax, Dreft and Powdered Bleach.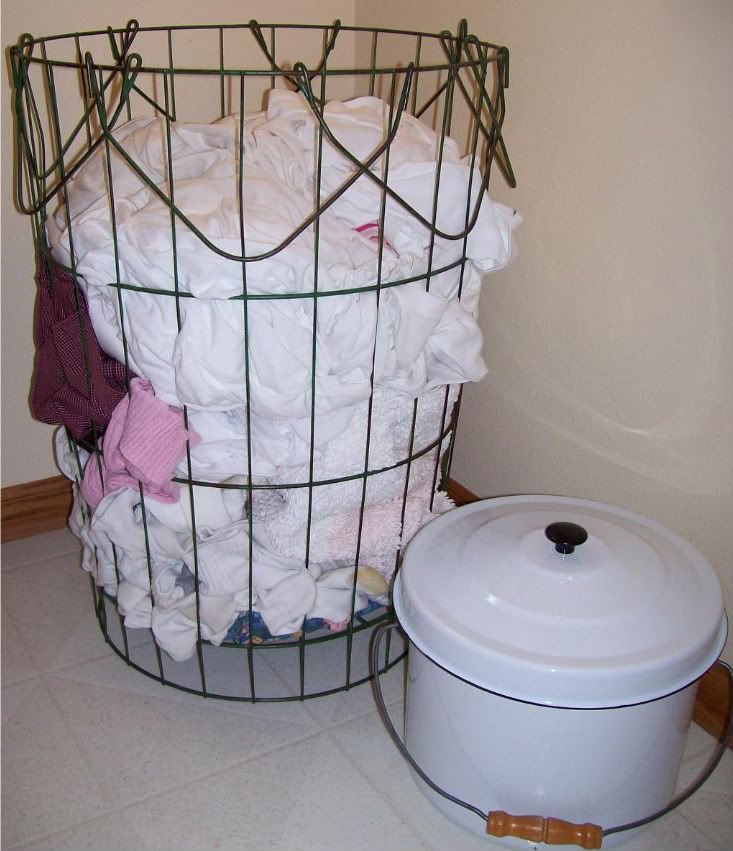 A vintage burning basket makes a great laundry hamper, I still need to sew a liner to hide the dirty laundry.   An enamelware pot makes a cute garbage can.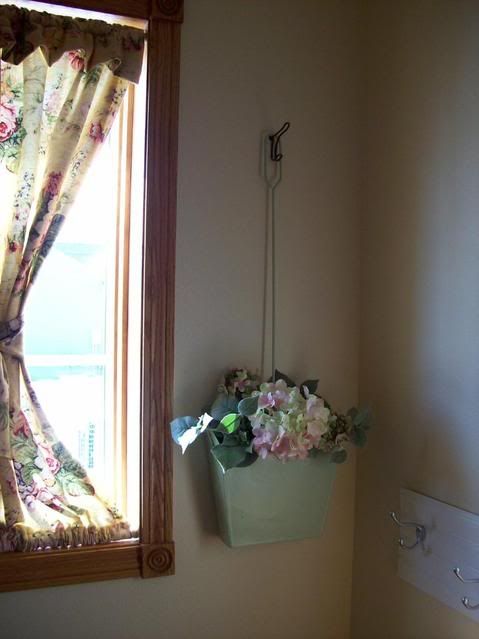 Every laundry room needs a little fun, a vintage dust pan now holds hydrangeas and hooks attached to wainscotting are an essential for drying swimsuits straight from the washing machine.
My washing machine (I can call it mine since no one else in our family wants to get near it) has a sanitary cycle which I just love.  I can take the dirtiest of linens from thrift stores and garage sales and sanitize them to a level of hospital clean.  The sanitary cycle has a separate heater that heats the water temperature higher than a home hot water heater.  After the prewash, soak and sanitary cycle (2 1/2 hrs. later) I feel comfortable using my found treasures in our home or selling them at the store.
I came across a recipe in an old church cookbook titled "Nurses White".  I guess it is old since nurses haven't worn white for many years.  I just updated the name.  It's very strong so stick to the warnings. 
I love finding linens that are stained beyond what others would attempt to clean. This recipe has saved many vintage linens from the rag pile over the years.  I love to check every few minutes to watch the progress of the transformation and to check for fading.  If I'm doing linens that have colored embroidering or the old vat dyed tablecloths with color, I like to keep a close eye.
Magic Whitening Formula
1 Cup Cascade Powder
1 Cup Bleach
laundry tub of Hot water
Warning:  use rubber gloves or tongs and open a window for ventilation
I better stop blogging about laundry and go do some before it multiplies again.