One spring day our daughter came bouncing off the school bus and up the street toward home while our dog Scooter and I watched her every step.  I'm convinced Scooter has an internal time clock.  Every school day ten to twenty minutes before the school bus is to arrive, Scooter awakes from his afternoon nap and moves to the living room window closely watching and waiting for our daughter to arrive home.
On this spring day she came home in her ususal happy manner.  After answering my questions of her day she mentioned she needed a jar for a school project.  Finding an empty glass jar in our household is not a problem.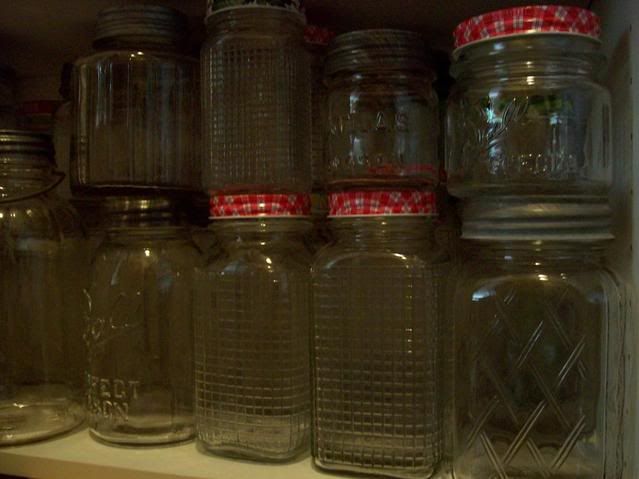 Lora has given me the title "Jar Queen".  They come in so handy around our home, you'll see them pictured throughout upcoming posts.  It'll be like "I Spy" the jar in this pic.
Our daughter selected a jar and off to school it went.  A few days before Mother's Day she came home with two neatly wrapped packages with "Mom" written across them both.  Inside one package was the jar filled with pieces of paper.  The other package, a newly decorated composition book with a note from her fourth grade teacher.
Her instructions were to pick a piece of paper from the jar and write a response in the notebook.  I have a long way to go in emptying the jar.  Some of the things I've written about at this point are how I met my husband, our time of dating, engagement, our wedding day and first house.  I'm anxious to continue my writing journey to leave our daughter a lasting legacy.  We'll see what the next piece of paper holds for me to write about in my notebook.  Thank you Mrs. Houghton for giving our children a wonderful lifelong gift.
It's portable, I do entries while watching our kids sports, when I'm waiting in the car for kids, or a few entries while on vacation.  I challenge you to start your own memory jar for your kids.
We'll have ideas for vacation jars at the store during July Occasional.