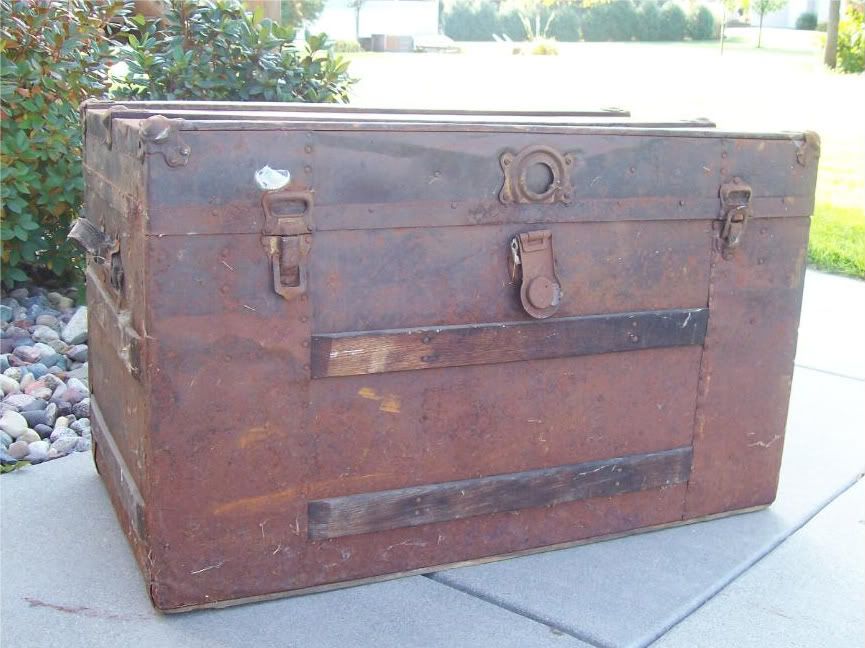 During a recent junking adventure Lora and I spotted this vintage trunk on the side of the road.  It was someone's castoff, but for us, it was love at first sight.  The outside of the trunk was beautiful (or at least in our minds it would be once it was cleaned up and had a coat of poly), but the true test is when you lift the lid.  Does the years of historical odors make your nose wrinkle?
When we opened the lid on this trunk, our eyes widened and "ooooh" came from our lips.  Any odor that may have emerged was quickly over taken by the sight of a yellow chenille bedspread.
After getting it home, I couldn't wait to see what else I would find inside the trunk.  Hubby was hoping for some hidden cash, but what I found was much better.  Under the yellow chenille bedspread I found two more yellow and one partial white one.  
More treasures found were a white slip, a pink slinky unmentionable, pile of handmade lace, a pillow that had seen better days and a dress (about a size 2).  The treasures in the trunk just gave me the giggles as I unpacked them one by one.  
This trunk and its contents were seen as a pile of junk to someone, but we saw it as a treasure of possibilities.  When we look at ourselves we see our faults and shortcomings, but God sees us as a treasure of possibilities.